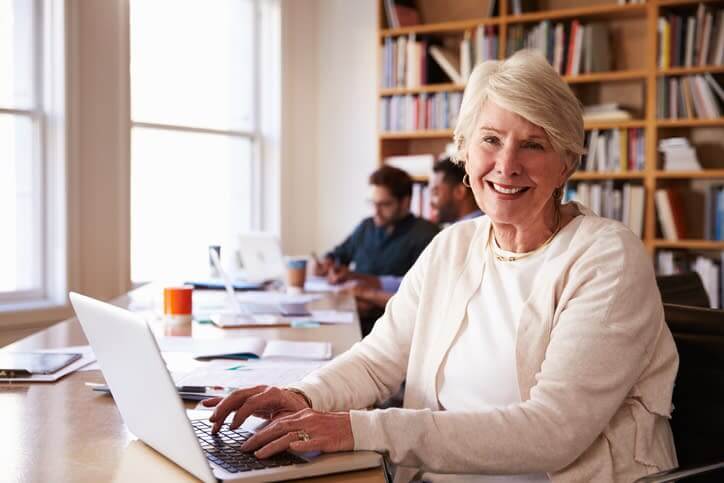 Never Retire: The 6 Rules of the New Retirementality
When is the best time to retire? How about never? That's right, "never retire" is the advice of Mitch Anthony, a leading expert on retirement, and he has the research to show why it's such a smart idea for you mentally AND physically.
Ask someone to describe their perfect retirement and their answer will likely be some version of the following:
"I'll quit work and finally do all that traveling/golf/scrapbooking I never had time for."
But is that the right way to approach retirement? What if the things we've assumed to be the benefits of retirement (Lots of free time! No responsibilities! No work!) are highly overrated or even bad for us?
Would many of us actually be better off if we never completely retired?
Those are questions Mitch Anthony, author of The New Retirementality: Planning Your Life and Living Your Dreams…At Any Age You Want!, would like all of us to start thinking about. And he has some research and insights that might help you find the answer.
Why Do We Think About Retirement the Way We Do?
A little historical context could be helpful.
The first law regarding compulsory retirement went into effect in Germany in the late 19th century and required retirement at age 70. At the time most work required some level of physical labor so there was some logic to tying retirement to a chronological age.
According to our friends at Georgetown University Law Center, the enactment of Social Security in 1935 established 65 as the normal retirement age in the U.S. (at a time when the average life expectancy was 60!)
Fast forward to 2018 and it's typical to link retirement to a specific age. Although the U.S. Congress abolished mandatory retirement in 1986, there are occupations that require employees to retire at a certain age–for instance, commercial pilots and judges in some states.
Reduced Physical Demands Spark 'Never Going to Retire' Idea
And how do you think your friends and colleagues would answer if you asked the age when they planned to retire? We're guessing most would say 65 or younger, although they might be hard-pressed to say exactly why.
After all, it doesn't make sense to tie employment to physical age at a time when 80% of jobs are sedentary or require minimal physical activity. Most of us are trading intellectual capital for our paychecks instead of physical labor. And it's not as if our brains automatically decline at a certain chronological age.
Who got us Thinking Retirement = Leisure?
Del Webb was a one-time co-owner of the New York Yankees who later made his fortune in real estate development, including Sun City–the country's first 55+ "active adult community."
Anthony credited Webb with creating the terms "golden years" and "golden age" and the idea that retirees had earned their "day in the sun" and should leave work behind.
But the idea that we deserve a leisure-based retirement was largely Webb's brilliant real estate scheme and marketing push. Retiring at a certain age doesn't necessarily make a lot of sense when most of us are working behind a desk instead of hefting a shovel.
In fact, it may be harmful to your health.
Retirement Could Actually be Bad for You
The research is in on the health impact of retirement and, frankly, it's not good.
"One of the big findings in brain science and cognitive health issues, is that when you walk away from intellectual challenges, your brain begins to disintegrate," Anthony said.
A recent British study showed short-term memory declined almost 40% faster once a person retired.
Plus, according to Anthony, the latest findings around Alzheimer's and dementia show the number one behavioral factor that impacts the progression of those two disease states is maintaining a level of intellectual challenge.
"For some people, it's going to take more than the crossword to maintain that," Anthony cautioned.
I Will Never Retire: The 6 Rules of Retirementality
Is it time for a "never retire" philosophy?
Intrigued? Ready to rethink what retirement should look like for you?  Consider these six rules of the new "retirementality."
1. Keep doing what you love to do — on your terms
Mostly enjoy and still feel intrigued and fulfilled by your work? Keep doing it–but on your terms.
For instance, maybe you have exceptional grant-writing skills and could do this part-time for organizations you care about. Or, you have a depth of knowledge in a certain field and could work as a consultant.
The world needs your energy and experience and you'll benefit from sharing it. Today's digital and mobile tools mean it can be easy to work from pretty much anywhere.
John Bannister Goodenough could be a poster child for the new retirementality. The man who invented the lithium-ion battery at age 57 is still, at 92, hard at work on one last "super battery."
2. Don't let red herrings drive your retirement
No matter what you do for a living, you're trading your time, talent and energy for a paycheck –and there might come a time when you start asking what that paycheck is costing you.
But asking the question doesn't necessarily mean it's time to stop working.
"Often, the culprit isn't the work itself, it's something about your work," Anthony said. "Figure out what energizes you and what enervates you. Maintain the things you do enjoy and, if you can, offload the ones you don't."
Common red herrings:
Bad corporate culture
Difficult boss/co-workers
Challenging physical environment
Terrible commute
Boredom
Low pay/long hours
Check out Anthony's Retirement Worksheet to get a handle on what you do–and don't!–love about your current job.
3. Get past "busy"
We're conditioned to believe that as long as we "keep busy" all will be well. But it's important to be busy with a purpose.
"We all need enough purpose to wake up in the morning and enough money to sleep at night," Anthony said. "But don't think for a minute that having the money will help you have purpose–it has to pre-exist. Money can fund your purpose but it won't help you find one."
Find yourself sleeping more, watching TV more, drinking more or generally isolating yourself? It's time to figure out what's really valuable to you and a way to incorporate that into your life.
4. Don't just "switch your binge"
Many of us struggle with the idea of balance. "The American vision is to go from all work and no play to all play and no work," Anthony said.
There's a law of returns around leisure: less is more. Find the right balance between vacation and vocation: You're wired to need both.
5. Take a test run
"Retirement isn't a one and done," Anthony stressed. "It takes the average person two to four tries to figure out the right balance for them–it's highly personal and it's an experiment."
Instead of leaping off the retirement cliff, Anthony recommended interspersing periods of work with mini sabbaticals.
According to Forbes, research shows everybody benefits when employees take sabbaticals–including the organization (take this to your boss!).
6. Take the Vitamin Cs of healthy aging
As Anthony likes to say, "Age is a given; old is an attitude. There are plenty of 85-year-olds who aren't old yet and plenty of 45-year-olds who are."
Here are five things you can do to stay young no matter the date on your driver's license:
1. Connectivity: Stay connected to people you're energized by and who are energized by you.
2. Challenge: Continue to challenge yourself mentally and physically.
3. Creativity: Engage in pursuits that draw on your creativity.
4. Charity: Involve yourself in things that benefit others.
5. Curiosity: Maintain a childlike curiosity about learning new things. It will slow down the aging process.
We know the idea of a new retirementality might take some getting used to. But we think it's a concept that's well worth exploring–and one that could have a huge positive impact on your life!