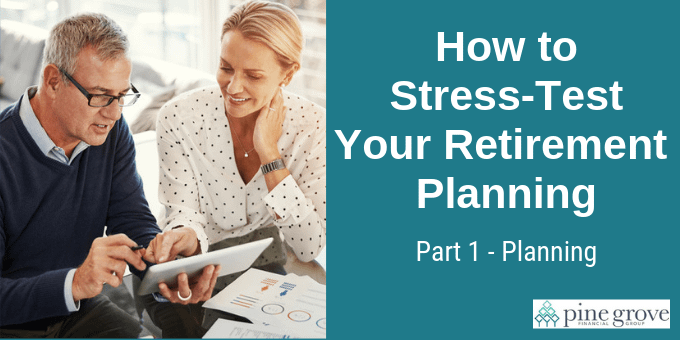 This is part 1 in our series on creating a financial plan for retirement, condensed from the book Stress-Test Your Retirement.
"By failing to plan, you are planning to fail."
This quote is often attributed to Benjamin Franklin. Besides being one of our nation's founders and helping to write the Declaration of Independence, Franklin was all about thinking ahead. He knew life's seemingly unexpected surprises didn't really have to be unexpected. Better to be ready for anything, Franklin believed.
His quote about planning is so well known that most people don't realize what he actually wrote: "By failing to prepare, you are preparing to fail."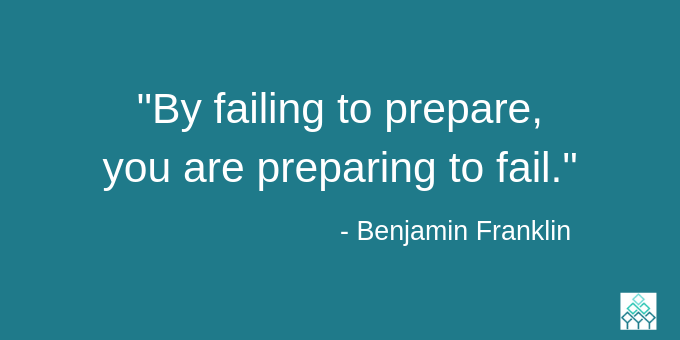 That's even more powerful, isn't it? By simply proceeding through life unprepared for whatever might come your way, you are preparing to fail.
So what does all of this have to do with your retirement? Well, a lot as it turns out. Read on to understand why good planning is so crucial for your future retirement.
YOUR RETIREMENT: YOU KNOW IT'S COMING BUT . . .
Let's read into Franklin's quote a bit more. Perhaps what he was saying is that, instead of thinking ahead and considering what might happen, we tend to go about our busy lives and trust that things will work out in the end.
And even though we know it's smart to have a plan that will help us weather bad times and capitalize on good times, few of us do.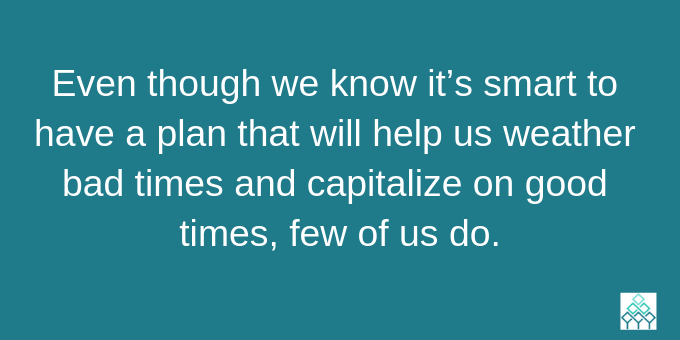 Instead of anticipating the possibilities, we comfort ourselves when something bad happens with a familiar excuse: "It was totally unexpected!" That's about as far as you can get from preparing, isn't it?
At least we do a better job of planning for the things we expect to happen, don't we? Surprisingly, no. It should be a no-brainer, but few of us plan for those things, either!  
OUR PLANNING BEHAVIOR REALLY NEEDS TO IMPROVE
Retirement is the perfect example. We know it's coming. Many people—especially here in Minnesota—have headed out the door thinking, I'll be glad when I can stop getting up in the dead of winter to do this! One of these days I'll be rolling over in bed while everyone else is shoveling their driveway so they can get to work!
But research shows we do little or nothing to prepare. Even scarier, many of us will retire sooner than we think.  
The Employee Benefit Research Institute (EBRI), a nonprofit, nonpartisan group that tracks such things, has data consistently demonstrating that people plan to stay working longer than they actually do.
Now add to that sobering findings like this: According to a study released by the Government Accountability Office in 2015, 41 percent of US households in the fifty-five to sixty-four age group have no retirement savings—at all. How sad is that?
To recap: Many of us are failing to plan for the future. Along with that, there's a good chance chance that your future—in the form of your retirement—will arrive sooner than you think! Talk about a double-whammy.
HOPE IS NOT A PLAN: A PLAN IS A PLAN (FOR STARTERS)
Of course, you may hope your retirement is a good one. But somewhere in your mind you know that hope isn't enough. Not to worry.
Even if you haven't really thought a lot about your retirement, the staff that make up Pine Grove Financial Group have devoted their professional lives to retirement planning. They're ready to help you start thinking about it—and effectively plan for it.
But let's not get ahead of ourselves. We think it's helpful to understand some basic ideas—and misconceptions—about financial planning.
Without question, there are some complex elements to financial planning. On the other hand, it's not that esoteric. There are some pillars of financial planning you can familiarize yourself with. Knowing them can empower you to take action wisely.
This will also prevent you from being lead down paths where financial products—rather than good planning—are touted as a solution. The simple fact is that, more often than not, financial products are simply not a solution. Read on to learn why.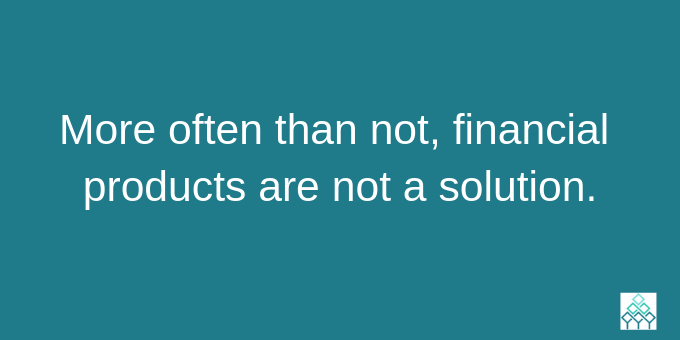 THE MYTH OF MAGIC PRODUCTS AND FORMULAS
Historically speaking, the financial advising industry has unfortunately been dominated by people running around selling commission-based products like life insurance, annuities and securities.
But does that mean these sellers deeply understand the unique financial situations for each of their customers? Generally speaking, no.
But wait: That's like a doctor asking you what's wrong and then writing a prescription before you've finished answering the question. Some might call that malpractice.
If you're in the early stages of retirement planning, your top priority should be to understand where you are now.
In other words, you need a diagnosis of your current condition. Only then can you start thinking about the solution—the prescription, if you will—that's right for you.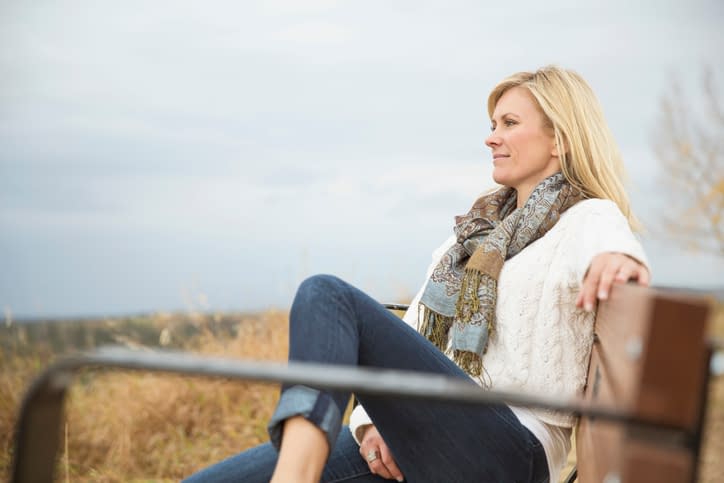 SMART PLANNING STARTS WITH YOU
Did we just say the solution above? Don't misunderstand that: There is no magic formula, no "A + B = a happy retirement." This can't be stressed enough.
The key to successful planning is that your plan is flexible. It needs to be adaptable enough to changing conditions so that your overall goal remains achievable. To throw out some sort of one-size-fits-all formula, or to think we can just plug in a couple of variables and get the answers you need—well, that's ludicrous.
Sure, those notions are out there. In the financial media, on the Internet, wherever—there are these crazy "simple retirement planning guidelines." For example, to retire comfortably, you . . .
must save eight times your current income.
need a million dollars (better yet, two million).
will never run out of money if you only take 5 percent per year from your retirement savings.
should become a more conservative investor in retirement.
Each of these, on its own, is absurd. And as far as being "guidelines," they likely won't work for you. Anyone who says they will, without further diagnosis, is committing financial malpractice.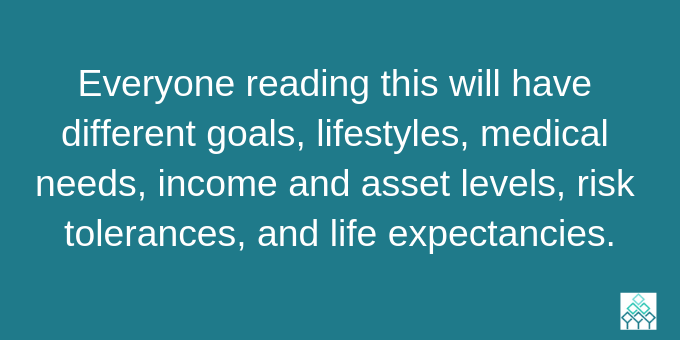 Everyone reading this will have different goals, lifestyles, medical needs, income and asset levels, risk tolerances, and life expectancies. That means one person's "A" and "B" are going to be completely different from someone else's.
To reiterate a critical point, one size does not fit all.
Your retirement plan must be customized to your specific personal situation, and nobody knows that situation better than you. Doing the work yourself—or even better, with the help of a trusted and experienced advisor—is the only way to get a thorough understanding of all your options.
Even then, you're not done. You need to stress-test your plan. By that, we mean you must run it through a host of scenarios and look at options that will allow your plan to adapt when "the unexpected" occurs. Because it will.
STRESS-TESTING LIKE "THE FED"
We've all heard of the Federal Reserve System. It's essentially the central bank of the country, and it controls our monetary policy. "The Fed," as it is often called, runs the most detailed, precise stress-testing imaginable before it applies various tools to help steer the nation's economic course.
More importantly, the Fed continually adjusts its plan as variables require.
The tool we hear the most about is raising and lowering interest rates. The Fed stress-tests the effects of adjusting rates based on thousands of variables, to see how their action might impact the economy:
What if unemployment goes up or down?
What if gross domestic product heads in this or that direction?
What would result from the combination of such events and whatever action the Fed is considering on interest rates?
The Fed wrestles with such questions constantly in trying to determine whether the policies in place now or the changes it might make will have positive or negative effects.
On top of that, it weighs whether the economy will benefit more, over the longer term, from a seemingly "positive" or "negative" impact in the near term. It all seems mind-boggling, but the Fed does it.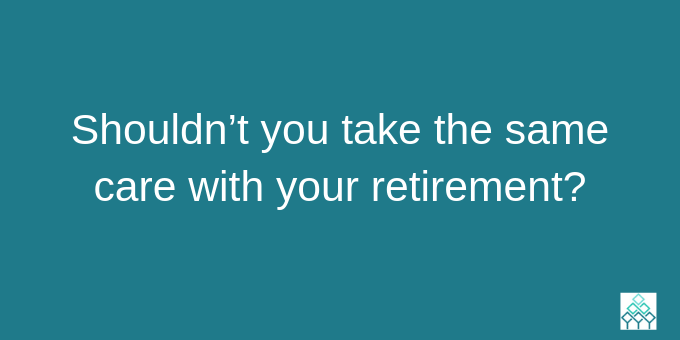 Shouldn't you take the same care with your retirement?
Stress-testing your investment portfolio to see how it will react to changing life circumstances makes obvious sense. For example, you can plan based on living to a given age—but what if you live longer? How would that affect your cash flow, and what steps can you take to help cover yourself?
Doesn't it also make sense to pinpoint the right time to take a pension or your Social Security benefits and to optimize these together so your retirement income flows as efficiently as possible?
And what about taxes? What's the best strategy for keeping them at a minimum, once you've retired and every dollar counts?
These are not questions to be taken lightly.
Again, you know retirement is coming! Do you really want to rely on hope or magic?
Retirement planning isn't a one-time project. It's a habit that must be developed.
A HOLISTIC APPROACH TO YOUR FINANCIAL FUTURE
Holistic. It's a term often associated with medicine. WebMD defines holistic medicine as "a form of healing that considers the whole person—body, mind, spirit, and emotions—in the quest for optimal health and wellness."
What about a holistic approach to your financial plan for retirement? In order to create an optimal plan, you and your financial advisor should be considering your situation, your needs, and your goals from a whole-person perspective.
To better understand what holistic financial advising looks like, we believe it's helpful to compare good medical care with good financial care. Consider the following comparison breakdown.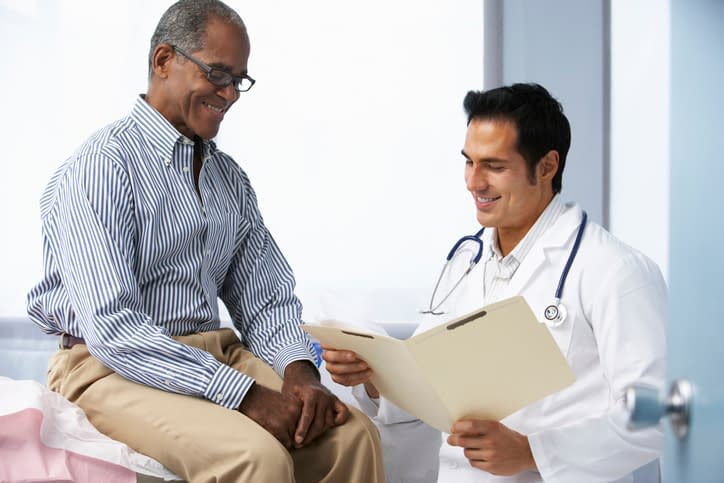 MEDICAL TREATMENT VS RETIREMENT PLANNING
Step one: You're not feeling well, so you go to your doctor's office. Your doctor asks a lot of questions about how you feel and what's happening.
Step two: You're put through a set of diagnostic tests to analyze your symptoms.
Step three: The doc studies the test results and considers possible diagnoses. Things are narrowed down. Your doctor now has a good idea of what's ailing you, but must be sure.
Step four: He digs even deeper. More questions. More tests. Perhaps he brings in a specialist.
Step five: Finally, it's time for diagnosis and treatment. Your doc might prescribe rest, medicine, surgery, physical therapy, or some combination of these. But it doesn't end there.
Step six: This is the follow-up. A good doctor, whether weeks or months later, takes step six. He or she will bring you back to be sure the prescribed treatment worked and that no new issues have surfaced. And next year, you'll see one another again.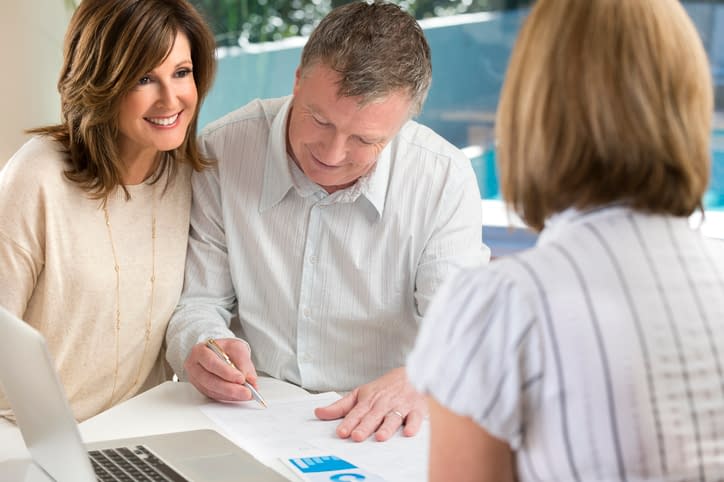 At Pine Grove Financial, we follow those same steps with our patients—oops, clients!—in putting together their retirement plans:
Step one: We diagnose your situation by asking questions like these:
When do you want to retire?
Do you have any specific goals for your future?
What are you most concerned about?
Have you had any traumatic experiences with investing in the past?
Do you need a certain amount of money to live on?
What is your tolerance for risk?
Step two: Our diagnostic testing and analysis comes in the form of asking another set of strategic questions:
What does retirement look like for you?
What are your current assets and obligations?
What are the chances you'll retire sooner—or later—than you think?
How do you plan to spend all the free time you're going to have?
Where do you want to live?
Will you be a "snowbird," heading for Florida or other points south in the winter? Or maybe your dream retirement is traveling the world? Or fishing every day?
Step three: We step back and see where you're at based on your answers to those big questions. That's crucial before devising a plan and doing stress-tests for all the variables that will—or might—come into play.
Step four: We model for inflation, taxes, the investment environment, even cognitive decline—something most of us don't like to think about but can come with getting older nevertheless.
Step five: After we've "diagnosed" your current status, figured out where you want to go, and looked at all the variables, we're ready for step five, a "prescription"—your retirement plan.
Step six: This step is critical for effective planning. We conduct regular "checkups" to see if the prescription is working.
Is your plan holding up compared to how things are actually playing out?
Has your income significantly increased—or declined?
Are the other variables on track or are they running a little higher than expected? Or lower?
Even seemingly small amounts can make a big difference over a twenty- or thirty-year period, so we pinpoint them and adjust your plan to keep you on course. Every year or so, we do it all again, just like a good doctor.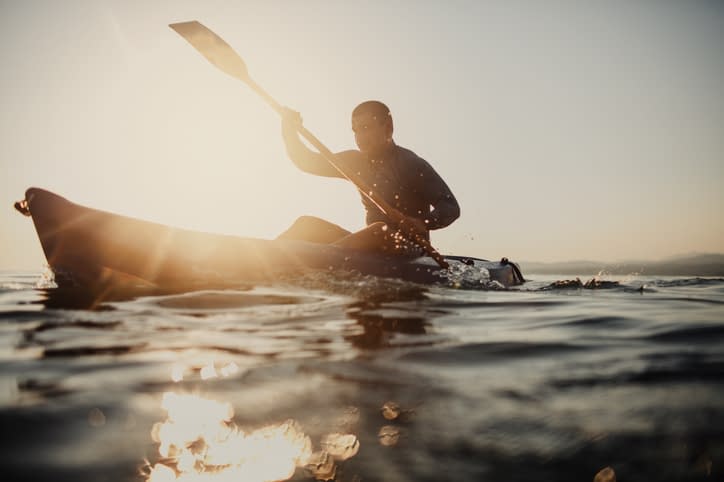 YOUR BIGGEST ENEMY? YOURSELF
Unless you study human motivation, you may not have heard of psychologist David McClelland. But his scholarly insights and discoveries drive the work that we do at Pine Grove Financial. It may seem like an obvious thing, but McClelland actually proved that careful planning is the key to success.
McClelland taught psychology at Harvard. He studied business owners and entrepreneurs to define the traits that set them apart. One aspect really stood out: Those who were more successful had highly-detailed business plans.
How that translates to retirement is easy to see: We must treat our personal finances like a business. We must have a detailed plan in place.
There's really no excuse or "good" reason for any of us to "wing it" into retirement. But as we've seen above, that's really what a lot of us do. Why?
It likely has to do with what our old friend Ben Franklin would have considered the worst habit of all: procrastination. We simply put retirement planning off—and many of us keep putting it off until it's too late.
But it doesn't have to be that way.
McClelland's research proved something simple but profound: People who take action, understand the value of planning, and see their plans through do dramatically better than those who delay until the absolute last moment.
So when it comes to your retirement, don't delay.
As you explore your options for financial advising, we encourage you take step one toward the retirement.  
Next, read part two in How to Stress-Test Your Retirement Planning.
You can also learn more about Minnesota's premier retirement planners, the financial advisors at Pine Grove Financial Group, or click below to contact an advisor today!