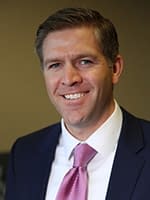 Matt
Gulbransen
President – AWMA®
Phone: 651-714-0323
Fax: 651-714-0422
635 Bielenberg Drive, Suite 210
Woodbury, MN 55125
What do you like best about working at Pine Grove Financial Group?
Being surrounded by a great staff that is dedicated toward helping our clients and I am very privileged to provide a positive impact for over 300+ families that trust us to help them achieve their financial and retirement goals.
What are the 3 words that people use to describe you?
Confident, Passionate, Diligent
When you're not working, what do you care about the most?
Prior to 2015, I enjoyed vacationing with my wife, Terri, boating, golfing, reading and fitness. Today, with 3-year old twins, Elijah and Lillian at home, they are my top priority. Seeing them grow has been very rewarding.
About:
Matt Gulbransen is the President of Pine Grove Financial Group and holds the Accredited Wealth Management Advisor designation. He has practiced as an advisor for over a decade and has been featured locally on Kare 11 and WCCO, and has also published a book: Stress-Test Your Retirement.
Growing up on a farm southeastern Minnesota, Matt learned at a young age that being prudent, careful and caring of your finances is how you ultimately create financial confidence. With that philosophy, Matt and his team at Pine Grove have a growing group of clients who continue to be provided with objective and honest strategies of how to ensure they live a comfortable lifestyle throughout their retirement years.
Matt began his career as a Financial Advisor with Morgan Stanley. Seeking more independence, he moved to a local community bank, Anchor Bank. Matt spent 8 years in their independent platform. Finally, he decided it was time to have total control for clients and founded Pine Grove Financial Group.
His primary financial planning philosophy continues to be based on thorough preparation to create a financial plan that aims to ensure a dependable and comfortable retirement income. He holds a degree in Finance from the University of Wisconsin – La Crosse. Matt lives in Woodbury.
Investment advisory services offered through Pine Grove Financial Group, an SEC Registered Investment Advisor.
Pine Grove Financial Group
Phone: 651-714-0323
Fax: 651-714-0422
Email: contact@pinegrovefg.com
635 Bielenberg Drive,
Suite 210
Woodbury, MN 55125
15322 Galaxie Ave.
Apple Valley, MN 55124
13100 Wayzata Blvd. Suite 300
Minnetonka, MN 55305
© 2020 PINE GROVE FINANCIAL GROUP. ALL RIGHTS RESERVED.