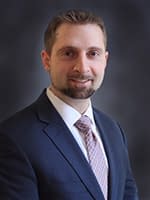 Jeff
Clark
Wealth Advisor – CFP®, CRPC®
Phone: 651-714-0323
Fax: 651-714-0422
635 Bielenberg Drive, Suite 210
Woodbury, MN 55125
What do you like best about working at Pine Grove Financial Group?
The freedom to give my professional best working in an environment that encourages my strengths and allows my clients to enjoy the best possible down-to-earth experience.
What are the 3 words that people use to describe you?
Logical, Patient, Encouraging
When you're not working, what do you care about the most?
My wife Amanda and our 3 kids Hailey, Eli, and Ashton. Personally, I enjoy outdoor activities like snowboarding, hiking, fishing, and Crossfit. I am also active with Eagle Brook Church in Woodbury serving in Student Ministries there since 2013.
About:
Growing up on a farm in Southern MN, Jeff learned the discipline of managing varying and often unexpected responsibilities for his family. Starting at the age of 8 he took the skills he learned on the farm and for a decade studied martial arts eventually competing on the international stage in South Korea in 2002 and 2004. Leaving martial arts behind he went on to pursue a degree in Mathematics and eventually a career in the financial industry just months before the 2008 financial crisis.
Since that time, Jeff has helped 1,000's of families think through and design their own retirement. Leveraging his roots Jeff believes in strategies that are Practical, Statistically Reliable, and have the necessary Guardrails to protect what truly matters.
Jeff is a CERTIFIED FINANCIAL PLANNER™ and a Chartered Retirement Planning Counselor℠. Jeff earned his Bachelor's of Science in Mathematics at the University of Northwestern – Saint Paul. Jeff is also a Registered Investment Advisor Representative through our Registered Investment Advisory, AdvisorNet Wealth Management.
Investment advisory services offered through Pine Grove Financial Group, an SEC Registered Investment Advisor.
Pine Grove Financial Group
Phone: 651-714-0323
Fax: 651-714-0422
Email: contact@pinegrovefg.com
635 Bielenberg Drive,
Suite 210
Woodbury, MN 55125
15322 Galaxie Ave.
Apple Valley, MN 55124
13100 Wayzata Blvd. Suite 300
Minnetonka, MN 55305
© 2020 PINE GROVE FINANCIAL GROUP. ALL RIGHTS RESERVED.