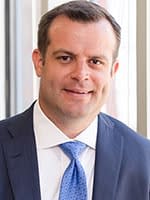 Jason
Johnson

CFP®, CRPC®

Wealth Advisor
Phone: 612-347 8667
13100 Wayzata Blvd. Suite 300
Minnetonka, MN 55305
Holistic. Transparent. Approachable. Over the last 19 years of working in the financial services industry, Jason has had the opportunity to work with some of the top financial institutions and advisors across the Midwest. This experience has allowed him to develop a unique perspective when it comes to holistic financial planning and the value of working with an advisor you trust.
Education, investments, insurance, tax planning, retirement, estate planning — Jason has a knack for seeing your big picture and crafting a personalized plan with straightforward, achievable steps. Whether it's sending your children to college, enjoying a comfortable retirement, or creating a lasting legacy, empowering your dreams drives his passion for planning
As a true Minnesotan, Jason enjoys being on the water in the summer and skiing in the winter. He lives in Minnetonka with his wife and daughter.
QUALIFICATIONS
Certified Financial Planner™ – CFP®
Chartered Retirement Planning Counselor® – CRPC®
Investment Advisor Representative
Bachelor of Science in Agricultural Business
University of Wisconsin – River Falls
Investment advisory services offered through Pine Grove Financial Group, an SEC Registered Investment Advisor.
Pine Grove Financial Group
Phone: 651-714-0323
Fax: 651-714-0422
Email: contact@pinegrovefg.com
635 Bielenberg Drive,
Suite 210
Woodbury, MN 55125
15322 Galaxie Ave.
Apple Valley, MN 55124
13100 Wayzata Blvd. Suite 300
Minnetonka, MN 55305
© 2020 PINE GROVE FINANCIAL GROUP. ALL RIGHTS RESERVED.