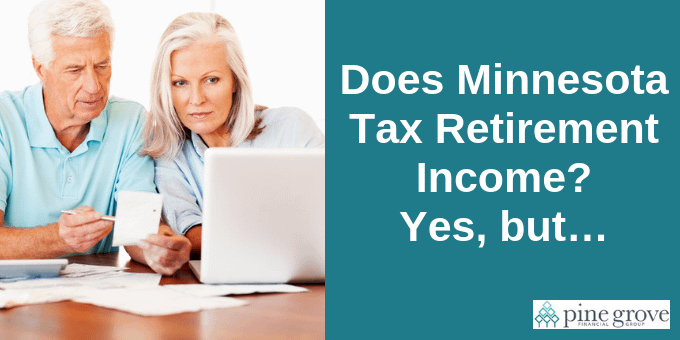 "Does Minnesota tax retirement income?" is one of the top questions our clients ask. And the answer is a definitive, "Yes." But does that mean you should pack up and head elsewhere in retirement? Not necessarily.
Taxes are a big concern for most of us, especially as we face the realities of retirement. But most of the people reading this post are longtime Minnesota residents and Minnesota's tax rates are nothing new for you.
How big a factor were taxes when you made the decision to live here?
As you're debating what your retirement address will be, don't let any one issue–including taxes–be the only factor you evaluate. Think big picture and consider the questions below when coming to a decision about where to live in retirement.
The Elephant in the Room: Taxes Are a Legitimate Concern
It doesn't take much sleuthing to see that Minnesota is one of the least friendly places to retire when it comes to taxes. Among our upper Midwest brethren, only the state of Nebraska shares our not so tax-friendly status, and an overall effective tax rate that exceeds 13%. (Ouch!).
Minnesota Retirement Income Tax Facts
| | |
| --- | --- |
| Social Security Income | Partially Taxed |
| Withdrawals from Retirement Accounts | Fully Taxed |
| Public and Private Pension Income | Fully Taxed |
Source: SmartAsset.com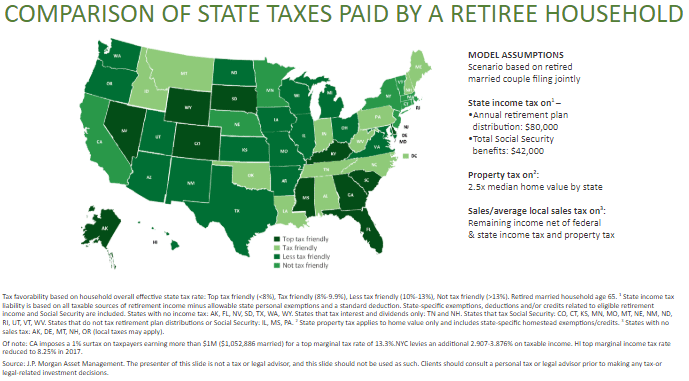 According to Kiplinger, the federal tax overhaul might be about to make things worse. They estimate that 300,000 Minnesotans will likely pay higher state taxes because they've lost exemptions on their federal tax returns (though some of these losses are related to dependent exemptions, which won't be an issue for most retirees).
And as long as we're on painful subjects, Minnesota also gets a top ten rating from Kiplinger for being one of the least tax-friendly states when it comes to property taxes and typical purchases. Need to wallow a bit more? Check out Kiplinger's complete state profile here.
Taxes Appear to Factor into a Move Decision for Some
If taxes were your only consideration, it could be logical to pack your bags and head to the south or the near west–as per the map above.
Research from United Van Lines shows something of a correlation between tax rates and the top ten states where retirement was the main reason for most inbound moves–though it's a bit surprising to see a non-tax-friendly state like Vermont make the top ten!
And we'll go out on a limb and guess there are issues besides taxes that make Florida appealing for many.
Most Popular States to Retire to                   Tax Rating
| | |
| --- | --- |
| Florida | Most tax friendly |
| Nevada | Most tax friendly |
| South Carolina | Most tax friendly |
| Arizona | Less tax friendly |
| Maine | Tax friendly |
| Vermont | Not tax friendly |
| Wyoming | Most tax friendly |
| Delaware | Most tax friendly |
| Arkansas | Less tax friendly |
| New Mexico | Less tax friendly |
And while we're on the subject of taxes, make sure you don't only look at taxes on income when evaluating where to live. A state that doesn't tax your income might make up for those lost revenues with high sales, property or estate taxes.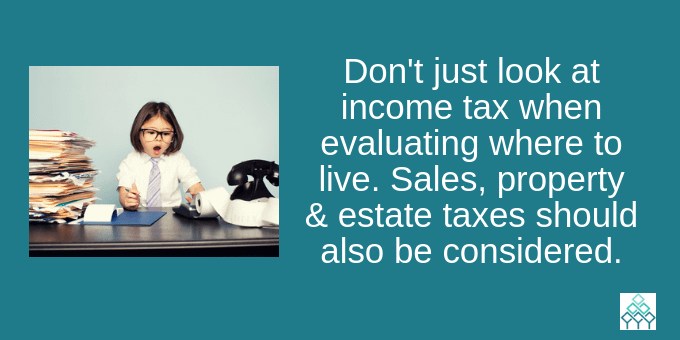 13 Questions that could Help you Pick the Retirement Location
Think back to other big decisions you've made in your life–where to go to college, which job to take, where to live, who to marry, how many kids to have.
You probably considered a lot of different factors for each of those, and the same should be true when deciding where you want to live in retirement.
Here are 13 questions that could help you pick the retirement location best for you.
1. What impact will location have on your Medicare supplement costs?
Where you live can affect the amount you pay for a Medicare supplement. This link spells out how Medigap works in the state of Minnesota. Here's an overview that lets you learn more about Medicare options in specific areas. This is a complex topic and I'm happy to connect you with experts who can help you learn more.
2. How much will it cost to move?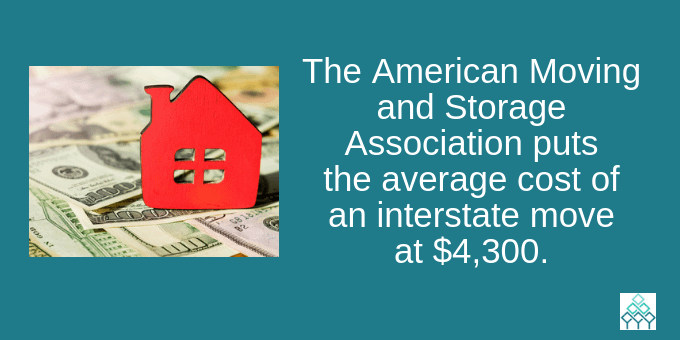 Moving can be expensive–and it can take a long time to recoup your costs, even if the tax rate in the new location is lower than Minnesota's. Here are some of the biggest expenses to consider:
The cost to move your belongings

Storage expenses (if you can't move in when expected)

Utility fees

Cost to ship a vehicle

Lodging costs for multi-day travel

Fees associated with a home sale/purchase
The American Moving and Storage Association puts the average cost of an interstate move at $4,300.
3. How does the cost of living compare?
This calculator from Bankrate can help you get a feel for how your current and "dream" locations measure up.
Be sure to factor in expenses that aren't currently part of your monthly budget–travel expenses to come back and see the grandkids or good friends (if they live in Minnesota), additional insurance costs if you move into a hurricane-prone area, etc.
4. How's your health?
Do you have a chronic condition that requires specialty care? Make sure the new location has the resources you need. And even if your health is currently good, it's almost inevitable you'll need additional health care as you age.
Choose a location with convenient access to doctors and a major medical center. Factor in the availability and cost of desirable senior living facilities if you plan to stay in this area as you require more care.
5. How do you like to spend your free time?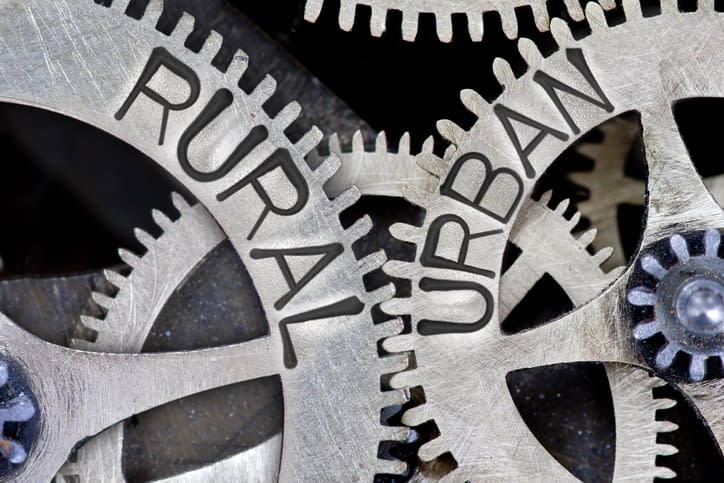 Consider the activities you most enjoy and make sure you choose an area that offers them. Sure, it's great to try new things in retirement, but if you prefer a slower pace and a quieter lifestyle, it's unlikely you'll be happy with a move to a big city–and vice versa.
6. What's the crime rate?
This FBI resource provides a wide variety of crime statistics.
7. What's the real estate market like?
How does your current market compare to the place you're considering? A slow market in Minnesota could mean you end up selling for less and don't have as much to invest in a new place–which is especially problematic if the new location has a hotter real estate market.
A residential real estate comparison from Wallet Hub analyzed 300 cities across 22 key indicators of housing-market attractiveness and economic strength.
Here's what they had to say about Minneapolis and St. Paul.
| | | |
| --- | --- | --- |
| | Minneapolis | St. Paul |
| Overall Rank (of 300 cities; 1 = best) | 57 | 137 |
| City-size Rank | 12 (among large cities, 300,000+) | 49 (among mid-size cities; 150,000-300,000) |
| Real Estate Market Rank* | 54 | 152 |
*Across 15 weighted categories. Methodology here.
8. Do you have a preferred climate?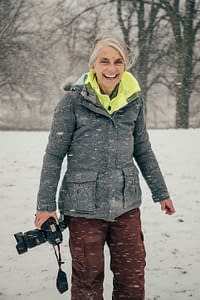 After decades of slogging through the snow and cold of a Minnesota winter, maybe you can't wait to live where a "cold" January day means you've got to pull out the polar fleece. But consider the weather year-round: If you've never experienced a tropical summer, check it out before making a big move. Don't assume one great vacation means you'll love to live someplace 365 days a year.  Try a month-long stay before you make any big decisions.
9. What about the political climate?
It can be a shock to the system to move to a place where the prevailing political sentiment doesn't align with yours.
10. Do you have a strong network of family and friends?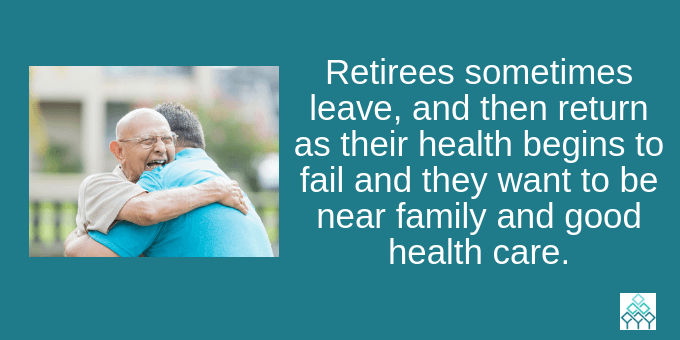 Most of us have more time in retirement to spend with the people who are important to us. Will you regret a move that takes you away from children, grandchildren and long-established friends? Who will you rely on if your health declines? How many of us know someone who moved to a new location only to fall ill and have no one to turn to for help?
According to Minnesota State Demographer Susan Brower, Minnesota residents sometimes leave the state at 62-65 years of age–moves to California, Arizona and Florida are popular–only to return in their 70s as their health begins to fail and they want to be near family and good health care.
11. Do you have a professional network that's important to you?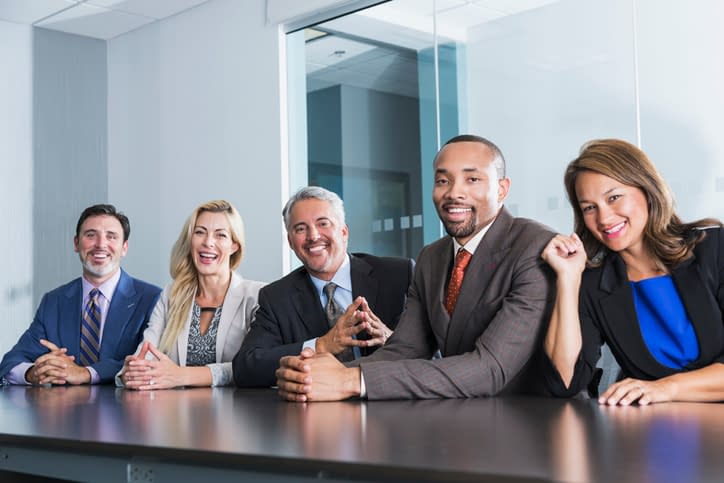 As discussed in an earlier post, Never Retire: The 6 Rules of the New Retirementality, there are many benefits to staying mentally active. Although it's certainly not impossible to build a new professional network in retirement, it can be much more challenging.  
12. Will a location still be a good fit if your needs change?
Lots of locations can work if you're in good physical, cognitive and financial health. But what if those things change? That isolated cabin in the woods might look great today–but how will you feel if you face a health crisis? And stretching to afford that swanky condo in a popular vacation spot might be ok when your finances are in great shape, but is that a good choice long term?
13. Are you planning to work in retirement?
A growing number of people either never retire or "un-retire"–according to 2010 research from Harvard University, 26% of retirees studied fell into this latter category.* If you'd like to continue working in some capacity during retirement, make sure the location you're investigating will have options that are a good fit.
*Brooks, Rodney. (Aug. 3, 2018) "Never Retire: Why People Are Still Working in Their 70s and 80s." U.S. News and World Report. Retrieved from https://money.usnews.com/money/retirement/baby-boomers/articles/2018-08-03/never-retire-why-people-are-still-working-in-their-70s-and-80s
Here's a Fun Fact: Most Retirees Stay Put
Have you always assumed that retirement = a big move to somewhere warm or unusual?  Research conducted by Richard W. Johnson, director of the Urban Institute's Program on Retirement Policy, using 2010 U.S. Census Bureau data, found that just 1.6% of retirees (between the ages of 55 and 65) moved across state lines. The vast majority either stayed in their pre-retirement home or moved in-state.
Retirement Planning Strategies Can Minimize the Pain of Taxes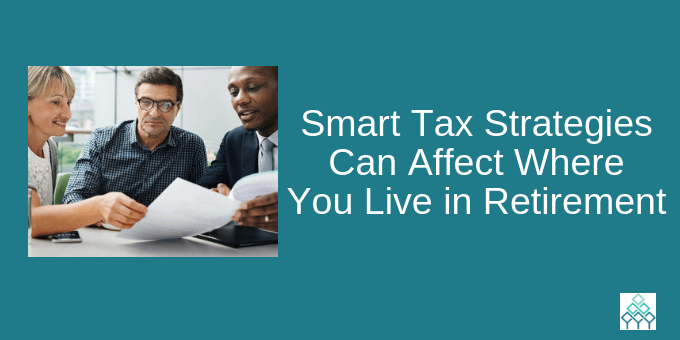 Sure, Minnesota won't win any prizes for its tax rates, and we understand the temptation to find a more tax-friendly place to live.
But smart strategies can lessen the impact. It's hard to provide an example that will work for every reader–each person's financial situation is sufficiently different that one size never fits all.
That said, I'd encourage you to make sure your retirement plan at least considers the following:
IRA to Roth conversions

. Since Roth conversions are a fairly new concept and most people have been conditioned to contribute to tax deferred accounts vs. Roth, you may not be taking advantage of this underutilized vehicle to reduce taxes long term.

Allocating funds based on taxation.

From a tax-efficiency standpoint, it can be a good strategy to hold investment options that pay dividends in your non-retirement accounts and bonds in your IRA.

A distribution strategy that optimizes your income tax efficiency.

Federal, state, Medicare and Social Security tax brackets all need to be considered when determining your most effective strategy.
Just know that  a). You have options and b). You can count on us to help you explore and select the ones that make sense for you.
Want to learn how a smart tax strategy could affect where you live in retirement? Let's connect.
Learn more about Minnesota's premier retirement planners,
the financial advisors at Pine Grove Financial Group.