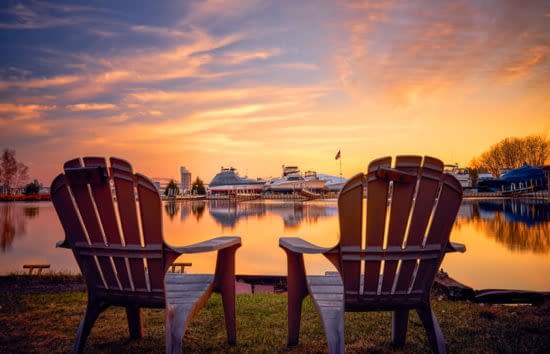 Trying to decide whether to maintain your Minnesota address in retirement? If you fear you're settling if you don't pack up and move to some exotic locale, think again. There are actually quite a few reasons why Minnesota could be the best place to retire.
It could seem like everybody's moving–after all, a survey from Bankrate showed 60% of Americans think they'll move to another city or state in retirement.
But dig into the survey a little deeper and you'll quickly see this average is heavily skewed by younger respondents. Only 20% of those who were 65+ said they'd consider moving in retirement (while 73% of those aged 18-29 planned to spend their golden years somewhere else).
Ready to learn why a Minnesota address could still be a great fit in retirement? Keep reading.
Minnesota is a Great Place to Live–Everyone Says So!
There is an impressive list of organizations that have put Minnesota in the Top 10–and often in the Top 5–for various quality-of-life categories. These include:
1st in Quality of Life (Forbes, 2017)
1st Best State for Women (WalletHub, 2017; Institute for Women's Policy Research, 2015)
1st in Health care Quality (Bankrate, 2018 and WalletHub, 2018)
Happiest – and Least Stressed – State in the Country (WalletHub, 2017)
Happiest State in the U.S. (MagnifyMoney, 2018)
2nd for Life Expectancy (only Hawaii beat us!, WalletHub, 2018)*
2nd in Quality of Life (U.S. News & World Report, 2018)
2nd Best State for Millennials (WalletHub, 2017)
2nd Best State Overall (U.S. News & World Report, 2018)
2nd Strongest State in the Nation (Politico, 2018)
2nd Best State for Working Moms and Working Dads (WalletHub, 2017)
2nd Best State to Raise a Family (WalletHub, 2018)
3rd in Quality of Life (CNBC, 2018)
3rd in Opportunity (U.S. News & World Report, 2018)
3rd in America's Best States to Live In (CNBC, 2017)
4th in America's Best States to Live In (24/7 Wall Street, 2016)
4th Safest State in America (WalletHub, 2017)
4th in Overall Child Well-Being (2017 Kids Count Databook, Annie E. Casey Foundation)
6th Healthiest State (America's Health Rankings, United Health Foundation, 2017)
6th Best State for Jobs (WalletHub, 2017)
7th Best State for Health Care (U.S. News & World Report, 2018)
7th in Camelot Index (Federal Funds Information for States, 2017)
9th in Best Places to Live (U.S. News & World Report, 2018)*
Source: mn.gov  (*these results directly from cited sources)
But Why Could Minnesota Be the Best Place to Retire?
We're thrilled by these accolades, of course, but most reflect our state's appeal to a broad cross-section of ages. If living somewhere that's also attractive to your kids and grandkids is a factor in your decision making, congratulations: Minnesota could be a great place for all of you.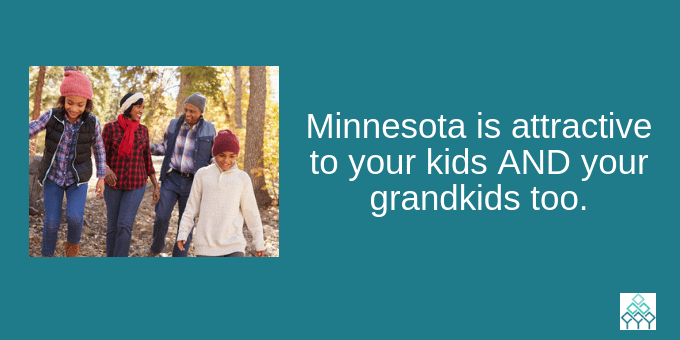 But if you're more interested in reasons why Minnesota is a good fit as you move closer to retirement, here are seven:
1. Loads of Activities. Retirement is a time when most of us are looking for new ways to spend our free time. Here are some Minnesota standouts that could be a good fit for older adults:
The great outdoors!

Our state boasts plentiful lakes (10,000+), trails (hiking, snowmobile and more), bike paths and a plethora of year-round outdoor activities. The list of possibilities is much too long to go into here, but Google your favorite and it's likely you'll be able to do it in Minnesota at some point in the year.  

Tuition-free education for retirees 62+

. Available at any university or college in the state system.

The

Osher Lifelong Learning Institute

at the University of Minnesota. This "health club for the mind" offers older adults 300+ program options each year.

A wealth of senior centers

. These provide everything from counseling and wellness programs to volunteer opportunities and meals.

World-class theater

. Did you know Minnesota is tied with New York, California and Illinois for the most theaters per capita? (Thanks

WalletHub!

).

Major league sports.

If you're a pro baseball, football, basketball or ice hockey fan, Minnesota has a team–and tickets that are cheaper than in many markets–for you to enjoy.
2. Great Health care. Minnesota has a well-deserved reputation for high-quality health care. Bankrate scored Minnesota #1 for health care quality for retirees and WalletHub gave us a #1 for health care too. AARP called us one of the healthiest states for people 65+.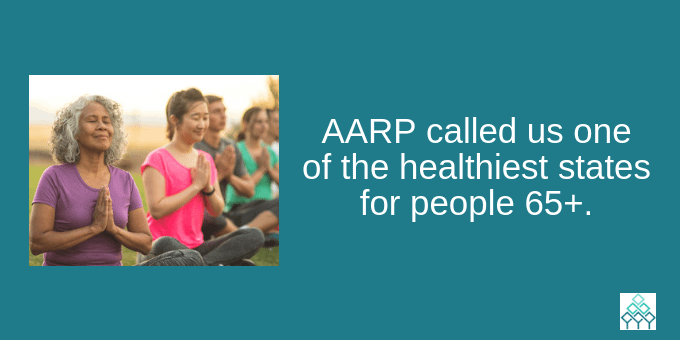 Nearby Mayo Clinic was ranked #1 on U.S. News & World Report's Best Hospitals Honor Roll and is nationally ranked for 15 adult specialty categories.  
Did you know Minnesota is one of the top 10 states for medical device manufacturers? We have a well-deserved reputation for innovation in health care.
3. Exceptional Ratings from AARP. Minnesota had high marks in a variety of categories:
The Most Senior Housing Units per Elderly Resident.

Minnesota has 125 housing units per 1,000 older adults; the national median is just 27.

Best Services and Support for Older Residents. Minnesota was the only state to rank in the top quartile for the five categories they measured: affordability, support for family caregivers, the ability to effectively transition a person from a nursing home back into the community, choice of setting and provider and quality of life and care–and we were #1 in those last two categories.

Top Livability Scores.

To determine "livability," AARP looked at 60 factors across seven categories (housing, neighborhood, transportation, environment, health, engagement and opportunity).
4. "Minnesota Nice" is Really a Thing. Sure, we like to joke about this–and know it's true anecdotally.  But now we have actual proof courtesy of a study led by the University of Cambridge.
Researchers mapped the moods in all 50 states over a 13-year period and Minnesota ranked as the sixth most-agreeable. In case you're wondering, the categories studied were openness, conscientiousness, extroversion, agreeableness and neuroticism.
5. Lots of Housing Options for Seniors. In addition to the wealth of senior living communities mentioned earlier, retirees also have a variety of housing choices before they make that move.
We checked in with Chris Galler, CEO of the Minnesota Association of Realtors, who reported there are quite a few single family condos, twin homes (what you might know as duplexes) and townhouses being built in both the Twin Cities and the second- and third-tier suburbs.
Galler said it's common for retirees to opt for what he described as an "association lifestyle" (condo amenities that mean people don't have to shovel, do outside maintenance, etc.) in a living space where all their personal living needs are met on one floor with an additional upper/lower level for visiting family.
"We're also seeing an uptick in people remodeling their current home so they can age in place, with the support of a home care resource," Galler said.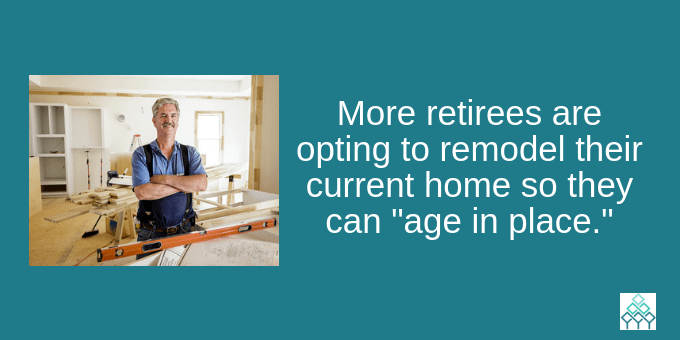 6. Low Unemployment. You might not have thought to consider this when investigating your options, but it could be important for a couple of reasons. One is that areas with low unemployment tend to be more stable, with better services and amenities. Second, because those of you who intend to keep working after you've retired might have more job opportunities–and better pay–in Minnesota than in areas with high unemployment.
Source: mn.gov
7. We're the Least Stressed State in the Country! Stress can lead to a host of physical and mental health challenges. WalletHub used 38 metrics across four categories (work-, money-, family- and health- and safety-related stress) and gave Minnesota top marks (in case you're wondering, Louisiana was the most stressed out state).
Two Issues We Can't Ignore
In the midst of all of these positives, we do have to acknowledge two challenges that go along with retiring in Minnesota: taxes and the cost of health care.
We addressed the first in a recent post "Does Minnesota Tax Retirement Income?" The main message was that even if Minnesota isn't tax-friendly, there are tax strategies to minimize the impact and our experts can help.
The cost of health care is a tougher nut to crack. As we all know, it's a top concern across the country and, frankly, health care in Minnesota is expensive.
According to the AARP, nursing homes cost over twice Minnesota's average household income and Minnesota ranked next to last in the cost to care for someone privately at home.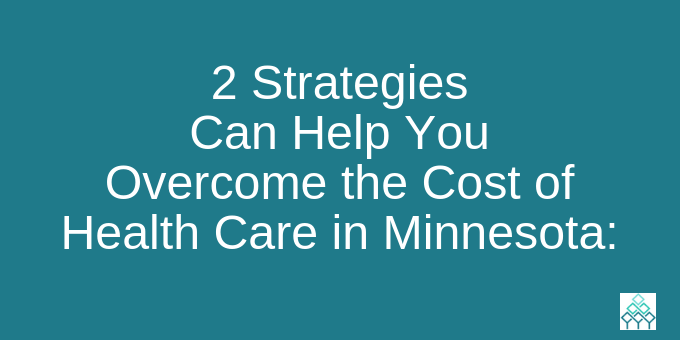 But these can help:
Long-term care insurance. You may have investigated long-term care insurance previously and opted to pass because so many policies had a history of huge rate increases. Early issuers greatly underestimated the cost of providing this coverage and hit many customers with price increases that topped 50%.
Newer policies have been priced much more realistically, making these a good fit for many. Our experts can help you navigate whether they make sense for you.
Medicare supplements. Minnesota is one of three states (Massachusetts and Wisconsin are the other two) that has come up with its own Medigap plan.
If you live in Minnesota you have guaranteed issue rights to buy a Medigap policy, but there are a variety of options and it can take some time to determine which one is right for you. Count on our team to help review your choices.
Legislative changes in 2015 mean an estimated 320,000 Minnesotans with Medicare Cost health plans will need new coverage in 2019. To find out if you're affected, visit the State of Minnesota Commerce Department site.
We love Minnesota and feel it can be a great place to retire. Want to find out why Minnesota could be the best place to retire for you? Get in touch today.
Learn more about Minnesota's premier retirement planners,
the financial advisors at Pine Grove Financial Group.